Latest Happenings at Soller Environmental
At Soller environmental, there is always something new in the works. Here are some of the things we've been up to most recently:
Accepted for Publication in Environmental Science and Technology
October 6, 2020:
"Contamination Scenario Matters when Using Viral and Bacterial Human-Associated Genetic Markers as Indicators of a Health Risk in Untreated Sewage-Impacted Recreational Waters" has been accepted for publication.
Along with the paper below this work defines the state of the science for use of molecular markers to establish risk based threshold values in recreational waters.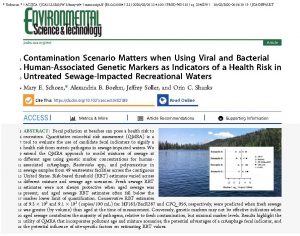 Abstract
A number of studies have used quantitative microbial risk assessment (QMRA) to derive risk-based water quality thresholds (RBTs) for a diverse set of novel water quality indicators in recreational waters. Over time, the QMRA approach has been refined with respect to model inputs and hazard characterization. Recent work considered differential decay of pathogens and indicators, and mixtures of contamination of diverse ages. In the present study, we present a refined ambient water quality RBT for the human-associated marker HF183. The new estimate updates previous work as it specifically considers contamination aging through the inclusion of temperature-specific organism decay, and the presence of mixtures of human sewage contamination of diverse ages. Based on these analyses we derived a RBT of 525 HF183 copies/100 mL as representative of conditions consistent with those described in the 2012 Recreational Water Quality Criteria (32 illnesses /1000). In recreational waters, microbial contamination due to gulls is also common. To account for this, we consider the case where human contamination from sewage co-occurs with contamination from gull feces. The resultant proposed median RBTs for HF183 range from 1 to 525 copies/100 ml and are a function of the amount of gull fecal contamination that is present in the water. The proposed RBTs can be considered for use in the evaluation of recreational water quality.
Accepted for Publication in Microbial Risk Analysis
September 21, 2020:
Our latest paper "Refined ambient water quality thresholds for human-associated fecal indicator HF183 for recreational waters with and without co-occurring gull fecal contamination" has been accepted for publication.
This work has the potential to impact how recreational waters are managed, particularly in areas that do not have wastewater effluent impacts. The graphic below summarizes how human health risks associated with recreational exposures changes with various combinations of gull and human markers.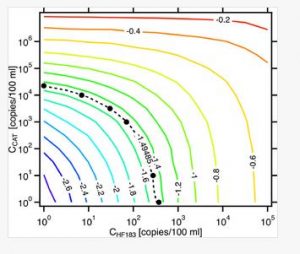 2020 National Recreational Water Quality Workshop
US EPA intended to host a 3.5-day workshop on April 21-24, 2020 at the Crowne Plaza West Loop in Chicago, IL. This was postponed due to the Covid-19 pandemic. We will update this later when we know for sure when this will happen…….
The workshop will be a forum for recreational water quality managers, stakeholders, researchers and public health officials at all levels to share information and ideas about implementing a successful recreational water program. The focus of this workshop is on two common challenges in ambient recreational waters: fecal contamination and harmful algal blooms.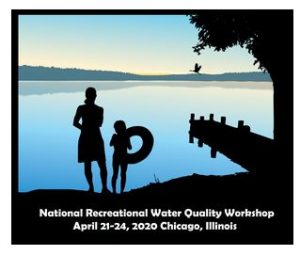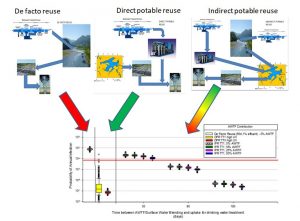 Accepted for Publication in Environmental Science and Technology
Our latest paper "Comparison of Predicted Microbiological Human Health Risks Associated with de facto, Indirect, and Direct Potable Water Reuse" has recently been published in ES&T.
This article can now be found on the ACS Publications Page
National Water Reuse Action Plan Draft Released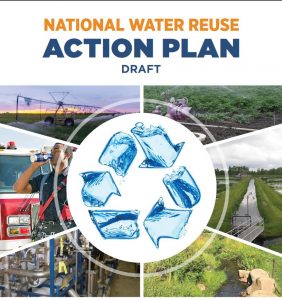 US EPA Assistant Administrator Dave Ross announced on September 10, 2019 the release of the
Draft National Water Reuse Action Plan. Over 1000 people attended the announcement at the WateReuse Symposium. There are 90 days to comment on the Draft Plan.
Soller Environmental helped compiling ideas and potential actions from the literature.

34th Annual Watereuse Symposium
We'll be attending the WateReuse Symposium in San Diego September 8-11, 2019. Jeff will be presenting our latest potable reuse work in a presentation entitled "Potable Reuse and Microbial Risks –
A Critical Review and Comparison of Risks between Planned and DeFacto Reuse".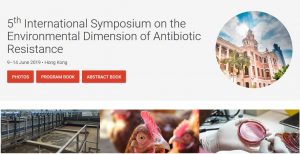 5th International symposium on the environmental dimension of antibiotic resistance
Mary participated in a Risk Assessment workshop in Hong Kong on June 9-14, 2019. The workshop was organized by Kerry Hamilton (Arizona State University) and Amy Pruden (Virginia Tech) as part of Water Research Foundation Project,"Critical Evaluation and Assessment of Health and Environmental Risks from Antibiotic Resistance in Reuse and Wastewater." This workshop brought together risk assessment and AMR experts to discuss a future framework for AMR risk assessment.